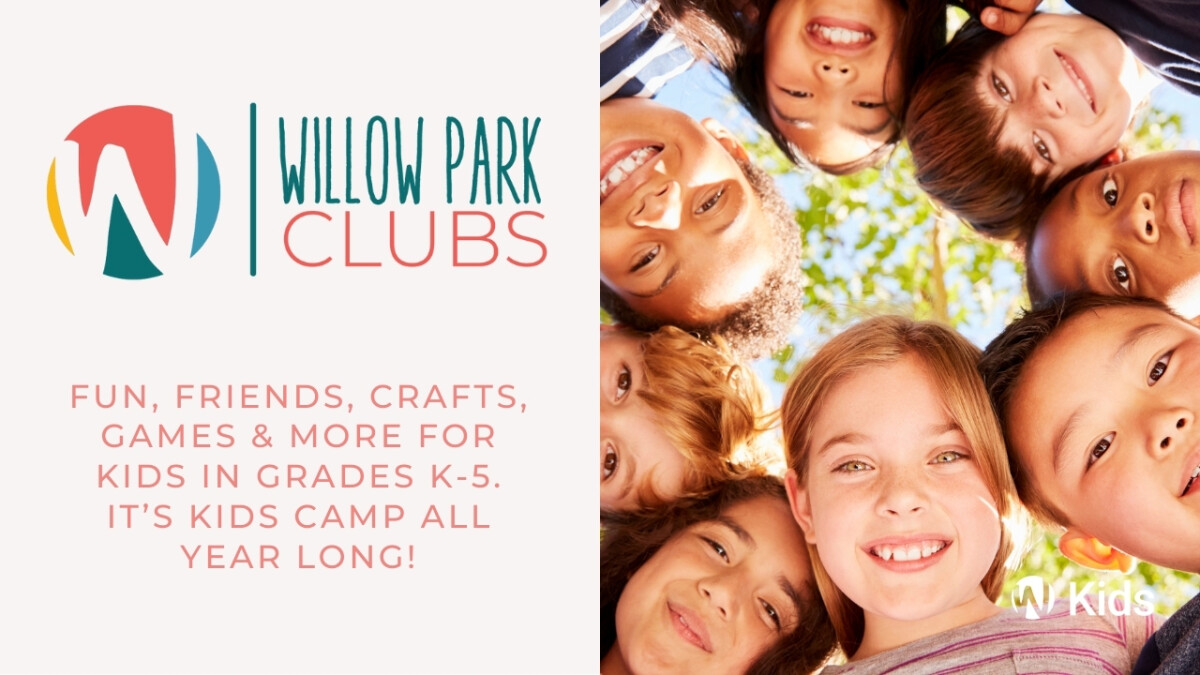 Every Tuesday, Wednesday, from 01/18/2022 to 03/09/2022, 6:00 PM - 7:30 PM
It's happening! We are excited to once again offer our Kids Club program each week. To better serve our communities our in-person Kids Club will be offered this winter in 3 locations: Rutland, Mission and Lake Country. Club nights happen weekly from 6-7:30 pm and the cost is $40 per child for 8 weeks of fun! Each evening will include interactive Bible-teaching, games, worship and activities. We will also be providing a safe and healthy snack each week. Parents will need to pre-register as NO registration will be taken at the door. Registration is now closed.
Please note: We will continue to adhere to physical distancing, sanitation practices and limiting group sizes as part of our COVID-19 response. Space is limited.
Choose a location...
Rutland
Willow Park Church - 439 Hwy 33, Kelowna
Tuesdays, 6-7:30 pm, January 18 - March 8, 2022


Mission
Willow Park Church South - 4574 Raymer Rd, Kelowna
Wednesdays, 6-7:30 pm, January 19 - March 9, 2022


Lake Country
Willow Park Church Creekside - 11370 Bottom Wood Lake Rd, Lake Country
Wednesdays, 6-7:30 pm, January 19 - March 9, 2022

Cost
$40 per child
What Will Kids Learn at Clubs?
Kids are naturally curious, and when you're curious about who God is it's easy to grow your relationship with Jesus. That's why, during Kids Club we will be engaging kids' imaginations!​ Kids will not only get curious about science, technology, engineering, and mathematics — but also about the God who created it all! This session we are going to be connect a popular video game to our real life. We will look for a imposter who hides among us, wearing a disguise, pretending to be something he is not. We will explore what happened to Adam and Eve in the garden, Moses in a basket, Jesus in a desert and many other Bible stories. We will learn that even though there is a imposter, there is also a hero that saves the day and helps us see through the disguises, tricks and tactics. Each day will be full of crafts, games, and activities to help us explore and find the answers and make new friends along the way.
Our Response to COVID-19
Each location will be following the same lessons although it may look slightly different as each location will have its own safety plan based on the buildings and the spaces available to them. We will continue to follow public health orders both locally and provincial. Currently mask wearing is mandatory for anyone over 12 years of age and to limit potential for exposure we will not have spectators in the buildings during pick up and drop off. You will find more details of our COVID-19 safety plan below and answers to the most common questions in our FAQ's below.
We continue to learn and adapt to each new set of restrictions as we find a new kind of normal. Willow Park Kids is changing the way we do things to help limit the spread of COVID-19. After reading the current BC Health Guidelines and recommendations, we will be implementing extra safety and sanitation procedures to protect everyone participating in our program. Physical distancing will be encouraged.
For more information, contact Tamara at or call 250.765.6880 x106
Frequently Asked Questions
What will the COVID-19 safety policy look like and what changes will my kids notice?

The most obvious changes are the ones that are linked to group size, how we move through our buildings and physical distancing. We will create groups and these groups will not change week to week. We will once again be moving to different rooms for activities hand washing will be encouraged and rooms will be regularly cleaned.
Does my child have to wear a mask?
Mask wearing is mandatory for all people over the age of 12 when entering a public place. You should know the church is considered a public place so volunteers and parents will be expected to follow this guideline. However, children under 12 years of age are not required to wear a mask. We do however place a very high value on safety for all those who attend so we ask if your child can wear a mask then they should. Everyone will be encouraged to but in no way will we force this on any child who chooses to not wear a mask.
How many people will my child be in contact with?
Your child will be placed in a pod with a max of 12 students and 2 leaders. This will be who your child is in contact with and the only people who will come within 2-meters.
What will be the difference between the different locations?
The general policy and program will be the same for each location. However there may be some differences in the ages of children in each pod; some pods may be organized by grade and others may be mixed gardes. Some locations have larger rooms with multiple points of exit out of a room and these locations will allow for pods to move around the building a bit more. Pick up and drop off may look slightly different to meet the guidelines due to space limitations and setup.
What kinds of activities can my child expect to do?
Your child can expect to participate in engaging Bible stories and fun worship songs. Each week new crafts, games and object lessons will be explored. Children will enjoy a healthy safe snack each night.
What is the age for Kids Club?
Clubs is for any child currently in elementary school.
Can my child invite a friend?
Yes! However, they will need to provide contact information and we ask that you let us know they are coming so we can make room for them. Some locations may host "bring a friend night" if they can remain safely inside the guidelines for group size and volunteers.
Will the kids be in groups? If so, can my child be with a friend or sibling? What if they are different ages?
Yes, children will be placed in pods and we are happy to place your child with a friend or sibling. There are many factors that play a role in how we create these groups but we always do our best to accommodate requests. When you register there is a question where you can list friends or siblings.
If you have any further questions, contact Tamara at or call 250.765.6880 x106