Alpha
Explore life, faith & meaning
Alpha is a free online course that creates a space to explore the Christian faith and discuss your questions. It's happening on Monday nights from 7-9 pm, February 7 until March 21, 2022, and will be hosted by Pastor Phil, Pastor Jordan and Pastor Curtis. Join us from the comfort of your home once a week as we explore life, faith and meaning!
Why try Alpha?
Alpha is a place for the bigger questions. Why am I here? Where am I heading? Is there more to life than this?
A place where you can be yourself. Where you can say what you think, and challenge everything. No question is too complex or too simple.
Through a series of interactive sessions we will explore the basics of Christian faith. Each session looks at a different question and is designed to create conversation. There's no pressure, no follow-up and no charge. It's just an open, informal, and honest space to explore and discuss life's big questions together.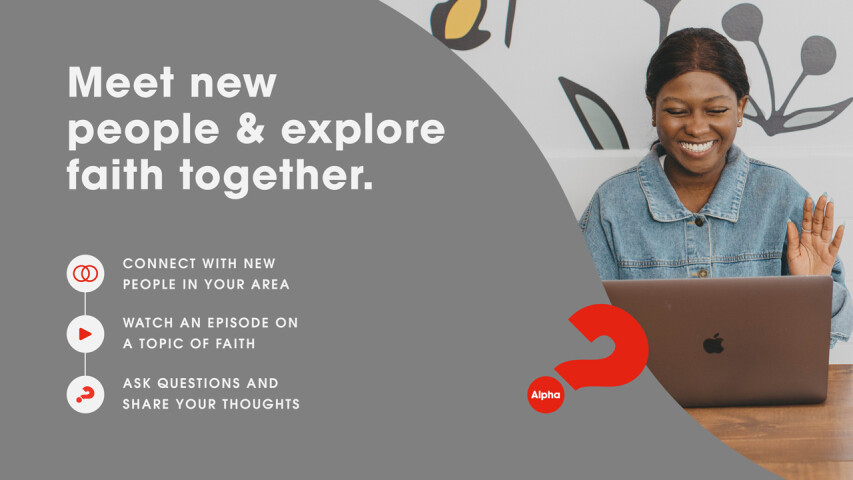 A Talk on the Christian Faith
Each week we will gather on Zoom and watch a thirty minute video together.
Each session explores the big issues around faith and unpacks the basics of Christianity, addressing questions from "Who is Jesus?" and "How can we have faith?" to "Why and how do I pray?" and "How does God guide us?"
A Small Group Conversation
One of the most important parts of any Alpha: the chance to share thoughts and ideas on the topic, and discuss in a small group. There's no obligation to say anything and there's nothing you can't say (seriously). It's an opportunity to hear from others and contribute your own perspective in an honest, friendly and open environment. Alpha is also great when you bring a friend with you!
How to Sign Up
For more information, contact Louisa.